Archive for the 'Miscellaneous' Category
Bokeh Volume 03 is Now Available for Download.
In this issue of Bokeh Magazine, we are featuring CJ Burton and his work in Photo Illustration. CJ Burton shows us how to push the limits of Photo Illustration, both from the perspective of creativity and perseverance in producing something that is out of this world. Find out more by downloading Bokeh Magazine Volume 03 and discover in-dept process of producing a work of art that captures the imagination.
Get Bokeh Magazine Free Trial Now!
Get Bokeh Magazine Free Trial Now!
Update: Fully Designed for the iPad Mini
This Issue of Bokeh is Packed with Awesome Content. Feature Story:Photographer & Humanitarian Tony Di Zinno. Inspirational Views from Ken Merfeld & Tony Luna. Better your Business by Harris Lim. New Columns:New & Noteworthy: Tamar Levine, Q&A Profile: Benson Ng, Erik Isakson, Max Shevyakov; How To: Music Photography by Steve Schechter; Workflow Workshop: Photoshop Blend Modes; Discover Video Series: Outdoor Portrait Photography; Over 100+ pages of Great Content that may Change Your Career for the Better! For the Price of a Cup of Coffee, Get Inspired & Move Yourself To The Next Level Subscribe Now!
The season of wet and wild is coming, sometimes staying dry can be challenging. Here's a quick DIY for photographers who will still be out there making images while the rain is pouring down. Stay dry and make those images!
Shooting landscapes is rewarding at any time of the year and it's no secret that the best images are often shot in adverse weather conditions. They help to add drama to a scene as the clouds, light and powerful skies work together to create maximum impact. However, getting yourself and your gear wet during a freak downpour isn't so appealing. Holding an umbrella is a pain and a waterproof camera cover isn't going to stop your lens getting wet. The solution? A hands-free brolly holder. In our latest DIY Photography Hacks post we show you how to stay dry in the rain with a simple umbrella holder to mount on your tripod. Here's how to do it…

for full article click here
Here's an amazing Close up review of the Sony NEX-7 with Sony 50mm F1.8 OSS. This was written by our Editor-in-Chef Nate. He compared auto focus close up and manual focus override.
I had the opportunity to test the Sony 50mm F1.8 OSS lens on the Sony NEX-7. This Sony 50mm F1.8 OSS lens is about 75mm in the 35mm equivalent on the Sony NEX-7 with the 1.5 crop factor. That makes this lens a medium telephoto, great for portraits, Close Ups, medium product shots, and some sports, among other subjects. For this phase of the review I wanted to focus on Close Ups. I wanted to use real world images and not take pictures of brick walls and test charts. I wanted to see how easy the lens autofocuses Close Up, how the manual focus override works in real world use, how does the lens sharpness perform in "real life" shots, and what's the "feel" of the out-of-focus areas (Bokeh).

Sony 50mm F1.8 OSS autofocus Close Up
The autofocus speed of the Sony 50mm F1.8 OSS lens is pretty snappy. It is "silent" and with lots of light it snaps right into focus. I did an unscientific focus speed test against my wife's Canon s95. I call it the "tip of the finger speed test". Up against the Canon s95, the Sony NEX-7 with the Sony 50mm F1.8 OSS lens wins, but not by a landslide. The Sony NEX-7 with Sony 50mm F1.8 OSS has an interesting phenomenon happen with you focus Close Up. I've experienced this with other Sony cameras before in which the lens focuses past the subject, then fore of the subject, then snaps into focus. I call it "Hunting Focus". It does it fairly quickly and after you get used to it happening you soon forget that it even was an issue in the first place. It doesn't happen every time. When you focus on a "flat" scene it rarely does but when you have a busy scene that has multiple possible focusing points it happens almost every time. It seems like the camera is deciding which focusing point it wants to choose and that's whats causing the delay. From the images below: in the image of the lizard the focus was very snappy and I was able to catch the little guy sharp as he was running by. (image relatively flat) In the two images of the leaves, with the water drops on it, the phenomenon of "hunting focus" happened on almost every shot.

For more test shots and detailed reviews click here.
Sample Shots
Fast Focus with the Sony NEX-7 with Sony 50mm F1.8 OSS
Grasshopper F2.8 using Sony NEX-7 with Sony 50mm F1.8 OSS
Grasshopper F2.8 using Sony NEX-7 with Sony 50mm F1.8 OSS
Article about "Stunning undersea panoramas now on Google Street View" from CNN, here are some of the images you'll see. Here's the link to the article.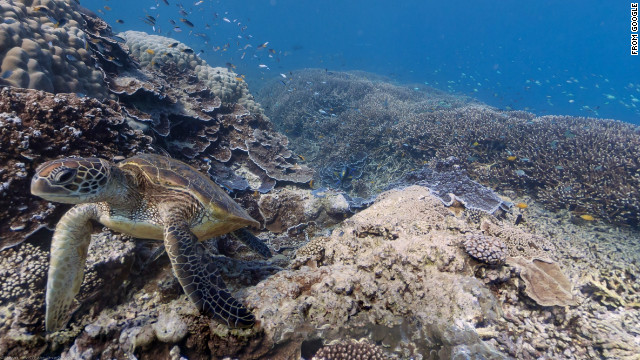 Google is partnering with the Catlin Seaview Survey to bring undersea imagery to Google Maps. This sea turtle swims past a Google camera near Heron Island, Great Barrier Reef, Australia.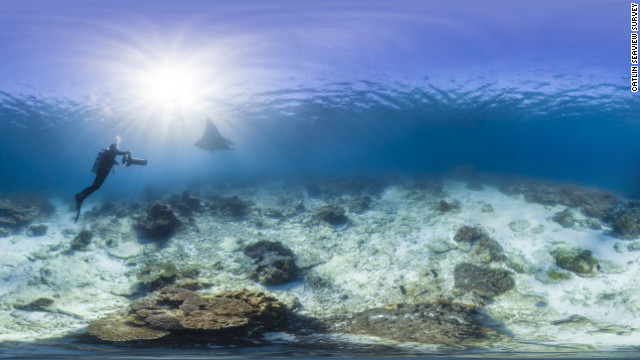 A Catlin Seaview team member films a manta ray near Lady Elliot Island and the Great Barrier Reef.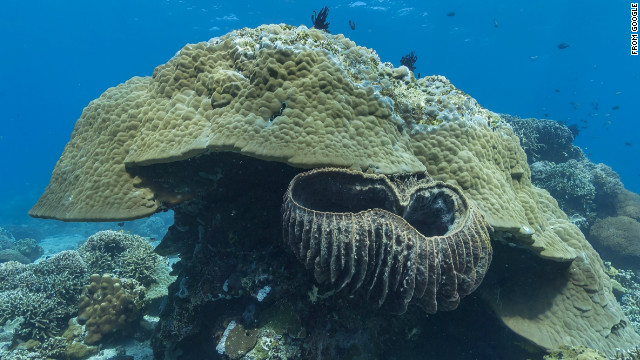 Ancient boulder coral in Apo Island, Phillippines